Our Mission
To create safe, equitable, more inclusive, communities within Greece, by contributing to the empowerment of refugee and migrant women. We work to create a society that reflects our community center:  a warm, inclusive, participatory space, where women are empowered and become agents of change within their lives, families, and the community at large
Our Vision
A world in which all women and their families have the right to survival, protection, and participation within strong, welcoming, and inclusive communities.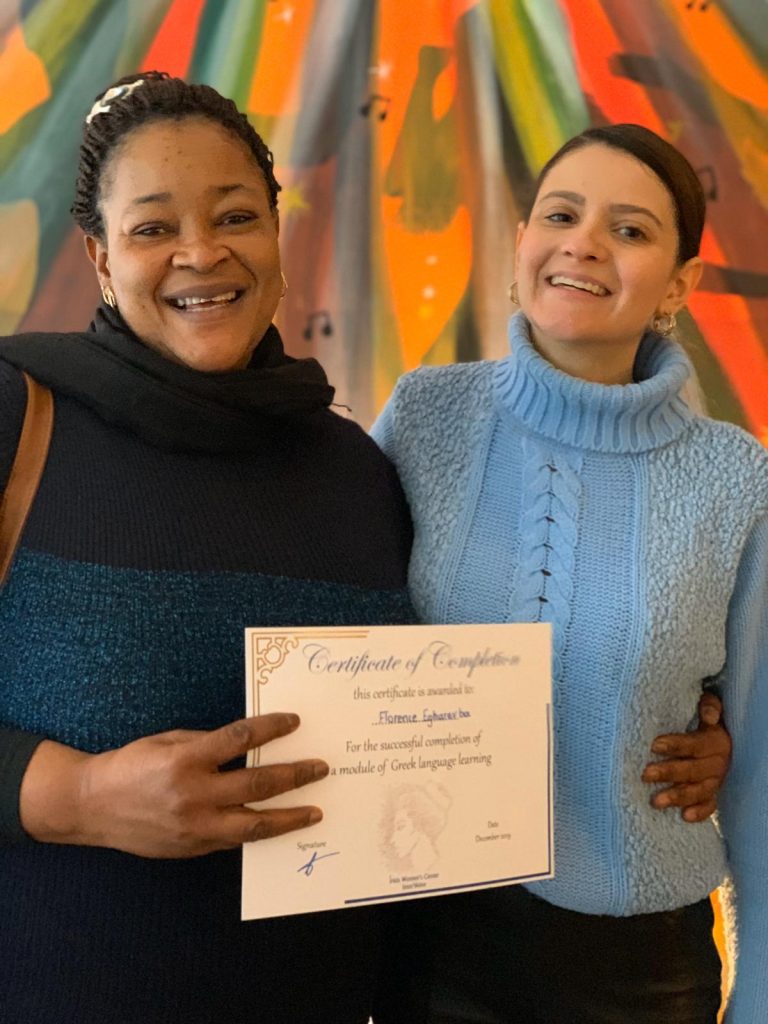 Our Values
Dream Big, but Start Small: We tackle the big problems by solving the little ones. We focus on families instead of numbers, and approach each woman as a source of infinite potential to positively impact their community, and the world.
Focus on Community: We realize that as members of a community, society, and increasingly interconnected world, our success as individuals relies on the success of others. By strengthening community, outreach, and solidarity between host communities and refugee/migrant newcomers, we can create a reality where all women of all backgrounds (and their families) can forge their own path to success.
Empower - we provide opportunities for each individual to explore and access their unique and inherent skills and strengths. Beyond traditional education, we believe in providing "life skills" that allow for women of all backgrounds, regardless of formal education, to create, contribute, and work within their communities.
Be Resilient and Agile - we tap into the power of our community to be agents of solidarity, support and change,  with fast mobilization capacity. We quickly and efficiently respond to needs, and actively work in solidarity with the local community, our partners, and vulnerable populations.
 Collaborate - we believe our strength is multiplied when we work together.  We seek solutions together with our community, our partners, local residents, and with the acknowledgment that in order to create inclusive communities, we must work on inclusive solutions.
Listen - we rely on the knowledge and insight of the community we serve, to directly respond with topics and actions that meet practical needs of daily life in a new home-country. We provide fluid and responsive programming.
Create new narratives: We debunk the false narrative of vulnerable or refugee individuals being "receivers" or "victims" by celebrating the inherent skills and contributions of migrant women. We harness the dynamic of cultural diversity which undeniably leads to innovation, creativity and positive change.
Our Approach
Irida represents both our core team and values, as well as our physical center.  We see Irida Center as a means to achieve our vision for a brighter, more inclusive, community, where all community members are given the opportunity to actualize their dreams, and contribute their skills and talents. Despite the immense challenges they may face, research shows that "Investing in the potential of the world's women and girls is one of the surest ways to achieve global economic progress, political stability, and greater prosperity for women — and men — the world over"*. This is why we have chosen to work directly with women in creating a more inclusive community for all.
 Our values are applied to all that we do, both in the programming at our center, as well as through outreach within the wider community, especially when it is most needed. We realize that achieving our vision, much like tending to a garden, relies on two things: 1. Caring for the seeds and helping them bloom and grow, 2. nurturing the soil in which they are planted, by tending to the wider garden. Where possible, we support local community initiatives, reaching out to vulnerable individuals or communities in times of need.